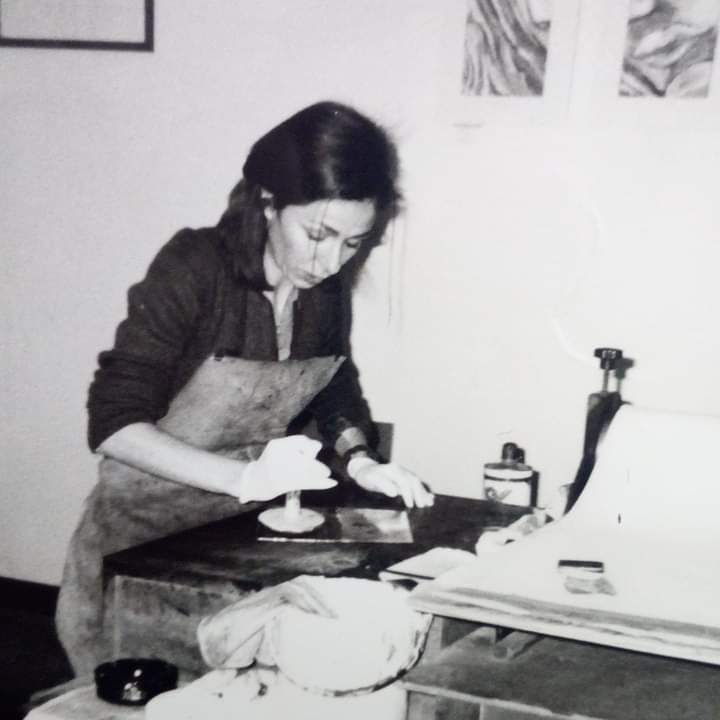 I was born in Siena in 1967. I received my diploma in 1984 from the Institute of art of Siena.
In 1997 I was opened in Certaldo my own workshop where I painted and do graphic work for 23 years.
In 1998 I obtained the qualification of restorer for mural and on canvas paintings at the centre for Formazione professionale in Siena.I was also involved into a restoring workshop of fourteenth century frescos in the
chapel of Ama di Lecchi in Chianti. I worked in some restoring work of decorations.
1998 I was commissioned for a large painting for an an altar, representing S. Michele Arcangelo and destined for the ancient romanic church of Rencine in Castellina in Chianti.
1999-2000 I attended summer courses s at the prestigious Florentine school"Il Bisonte"where I perfected my chalcographic and lithographic techniques following the Senefelder technique.
2006 the course"Engravings on Plexiglas, Goetz technique and other experimental techniques"by Vladimiro Elvieri at the Kaus school in Urbino.
2007 lithography by Florence Faval at "Il Tintoretto" in Venice.
2008 course in lithography by Franco Pistelli at "Il Bisonte".
2011 I started teaching in schools.
2019 "l 'Atelier 11" was born in Siena.